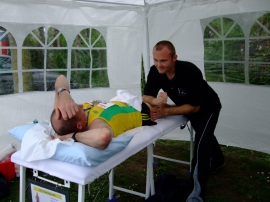 At the 3 Forts Challenge 2008
Deep Tissue Massage & Injury Rehabilitation
I am a Mobile Therapist and specialise in Deep Tissue Massage, but since qualifying in '99, I have gained considerable experience in treating a whole range of complaints, from muscle soreness and joint stiffness to frozen shoulders and headaches.
It is my sincere aim to reduce your pain and discomfort and get you back on the road to recovery in the shortest time possible.
Click an image to view Testimonials
In my experience, sports therapy is great for not only bringing about deep relaxation to sore muscles, but also in treating the following -
Stres

s Tension

Back and Neck pain

Hip and Knee pain

Foot and Ankle pain

Gamers Repetitive Strain Injury

Sore Thumbs and Necks from Texting

Pain and discomfort related to your sport

Postural related problems

Soft tissue injuries

Sciatic pain

Carpal Tunnel Syndrome

Joint stiffness OA & RA

Frozen shoulder (adhesive capsulitis)

Headaches

Tennis / Golfers elbow

Asthma

Pre / Post event massage

Breaking down scar tissue

Increasing range of movement
A detailed case history will be taken to ensure your treatment is specific and safe for you.
I am fully insured and bring with me everything I need to treat you comfortably in your own home.
Prices
Initial Consultation and Treatment £55
Follow Up Treatments £50
Call, Text, Email
Richard Rempel
07876 428043 - rsrempel@hotmail.com