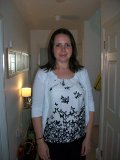 Marianne
I had a baby at the end of December 2009 and when I stepped on the scales a few days later I was horrified to see that I had gained 5 stone. I thought about joining the gym again but I knew deep down that with a newborn baby I wouldn't have the motivation to get myself there.
I did think long and hard before contacting 121 because I was embarrassed about my weight and it was a lot of money to part with. However, I can safely say it was one of the best decisions I have ever made!
I initially signed up to the Platinum package and trained 3 times a week. I was surprised to find myself looking forward to each session and, at the end of the 12 week package I decided to sign up for a further 6 weeks until I returned to work.
I found 121 Training to be highly professional, but it felt like I was training with a friend that knew exactly what my limits were and exactly how far to push me. I only wish I could carry on training with them indefinitely!
In the 18 weeks I trained, I lost 2 stone and 9lbs. My body shape has completely changed and I feel much more confident in my own skin.
Thanks 121 !