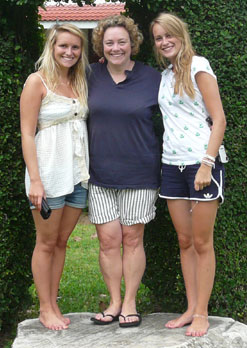 Avril Fryatt
"Richard has helped us accomplish individual goals despite varied levels of fitness.
Becky, aged 20, needed some help to get her fitness levels back up to scratch in order to play university level hockey, after over-indulging in the first year. She now plays for her college and feels much healthier thanks to Richard's sessions.
Hannah, aged 22, is running the Great North Run in September and needs specific training to allow her to complete the race. She is on track for September and is looking forward to the challenge as it now feels very achievable.
Andy, aged 60, was seriously unfit before Richards tailored sessions. He is just starting to reap the rewards. Although abroad a lot, he has continued to walk every other day and has changed his eating habits for the better.
Myself, aged 46, had tried every exercise known to man-kind, but they failed miserably. In the end I settled on workout DVD's but had reached a point where I just wasn't seeing or feeling any change. Getting a personal trainer was a little daunting at first, but it was the best thing I have ever done.
I have gone down two dress sizes in just a few months and feel like I have a new, slimmer lease of life.
Richard is extremely professional and encouraging and an all round nice guy. I promise you, its even worth facing the rain and the cold for. Even doubling my calories has seemed to work!
I would recommend Richard to anyone who wants to be fitter and healthier whatever their reason."