Learn Self Defence Privately At Home!
Times are getting dangerous and you should no longer be relaxed when walking the streets. Violence is on the rise and gangs attack with a pack mentality regardless of your age, sex or build. If they want something from you, they'll take it!
If you feel the need to learn to defend yourself, have been affected by violence and not known how to handle yourself or the situation, been afraid that you might not be able to protect your friends, family or loved ones or just plain fed up with being bullied?
Then choose 121 for your Self Defence Training!
As a Qualified Martial Arts Instructor and former British Tae Kwon Do Champion who has competed on a European and World class level, has years of experience and Black Belts in Tae Kwon Do and Ju Jitsu, I offer you a REALITY based training programme designed to prepare you for Serious Self Defence!
I teach my own progressive syllabus based on techniques that actually work with a grading system designed to make sure you know exactly what your doing.
My philosophy is simple -
"If you go down this path with me, it will be my job to teach you the mindset and skills needed to defend yourself in any given situation, along with the awareness to avoid them."
You need to know that skills like this do NOT happen over night!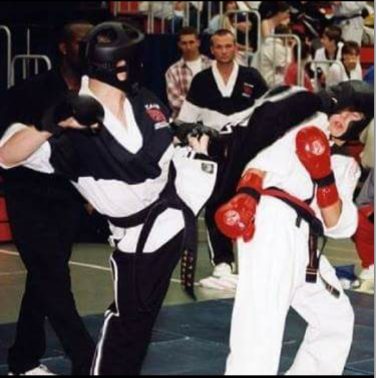 It takes Training and Dedication!
It doesn't matter to me if you are Male, Female, Big, Small, young or old. If you have ever been affected by VIOLENCE in ANY form and have felt absolutely powerless to do anything about it -
"I will teach you, among other things, how to Kick, Punch, Lock joints and Throw an aggressor to the ground, all whilst remaining aware of your surroundings."
My approach is to teach you from the ground up -
How to think.
How to react.
What to look out for.
How to handle yourself.
Self Defence techniques will be realistically put into practice as well as defence against knives and other weapons and as time progresses, you will become physically and mentally conditioned to be more capable of defending yourself and those you care about.

Based on training with me 3 times a week and following my guidence outside of our sessions, If you have the right attitude and approach, my Black Belt can be achieved within a year!
Achieving your Black Belt with me means you will have reached a very high level of competence and awareness. You will think like me, see things like I do and fight like me when the need arises.
But Remember -

"You've GOT to want it, to achieve it!"
Don't forget to check out my kids page!
* If you want to learn what I have to teach as a family, No Problem! *

For continuity of training and RAPID progression, I highly recommend my
Platinum Package!
All necessary equipment and professional 50mm matting is provided where space allows.
So no matter what your reasons for wanting to learn -
Call, Text, Email
Richard Rempel
07876 428043 - rsrempel@hotmail.com