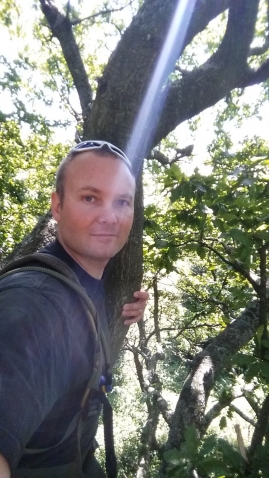 "I LOVE Camping High Up In Trees!"
So what am I like?
I am......
......Easy Going, Professional, Quiet, Unassuming, Cheeky, Funny, Serious, Scruffy, Handsome (I did say funny), Determined, Observant, Understanding, Empathetic, Tough, No fool, Focused, All Knowing, Motivating, Protective, Honest, Loyal......
I love the outdoors, climbing, kayaking, free diving, spear fishing, cycling, archery and pushing my limits.

I am married with two teenage kids and love making the most of our spare time together doing cool things as a family!
I can't stand social media and actively stay away from it! Maintaining this self build website is about as much as I can stomach being in front of a computer when there are so many more interesting things to do outside!
The self defence side to me started when I was fifteen. I saw an advert in the paper for a Martial Arts demo, went along and was instantly hooked! I developed a serious level of dedication which took me all over the country and Europe to compete in the championships.
I have been a competitive swimmer and water polo player and along with my other fitness interests and way with people, naturally gravitated to becoming a personal trainer.
Having seen and experienced first hand fighting and sport related injuries, I developed a thirst for the knowledge to fix myself and others. Thereby becoming a sports therapist.
I absolutely love my work, always have!
Over the years It has been my privilege to have been part of transforming some truly amazing people's lives, many of which I still consider friends to this day.
Here are some of my favourite memories -
Through hard work, encouragement and training, enabling an otherwise reclusive individual to gain the confidence to rejoin society and flourish.
In a family with a long history of the disease, bringing about the complete reversal of type 2 Diabetes for a Mother and Daughter that were worried about their future and the future of their Grandson/Son.

After residing to a life without children, through exercise and diet, my client had her very first period at the age of 28! Eleven months later with her partner, she had her first baby!
Being alert and capable enough to protect my client from a knife wielding attacker in Victoria Park, Worthing. Not a favourite memory but a memorable one all the same!

Completely changing the inherent obesity of a whole family through lifestyle changes, education and exercise. The last I heard, they had completed a marathon and were looking forward to a skiing holiday!
Conducting some truly memorable black belt gradings on the top of Cissbury and Chanctonbury Ring. You may start as a timid unfit and uncoordinated individual but by the time I've finished with you, you'll have the skill set, will power and determination to achieve my ultimate test!
Along with my training I love fixing injuries and getting people back to doing what they love. I have reset a broken arm and relocated shoulders, knees and ribs. I have repaired damaged muscles and reduced chronic pain levels in people suffering with
tight muscles, sore joints and arthritic pain.
As you can see, my work is really varied and I take everyone as I find them,
as no two people are alike.
Life is too short to NOT live it how you want to!
If you have things that you would really love to do, but have given up on believing you can do them - Think Again!
If your as passionate about changing yourself as I am about helping you -
We WILL make it happen!
Richard Rempel