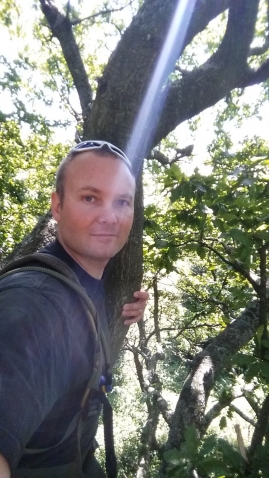 "I LOVE Camping High Up In Trees!"
So what am I like?
I am......
......Easy Going, Professional, Quiet, Unassuming, Cheeky, Funny, Serious, Scruffy, Handsome (I did say funny), Determined, Observant, Understanding, Empathetic, Tough, No fool, Focused, All Knowing, Motivating, Protective, Honest, Loyal......
I absolutely love my work, always have!
Over the years It has been my privilege to have been part of transforming some truly amazing people's lives, many of which I still consider friends to this day.
Here are some of my favourite memories -
Through hard work, encouragement and training, enabling an otherwise reclusive individual to gain the confidence to rejoin society and flourish.
In a family with a long history of the disease, bringing about the complete reversal of type 2 Diabetes for a Mother and Daughter that were worried about their future and the future of their Grandson/Son.

After residing to a life without children, through exercise and diet, my client had her very first period at the age of 28! Eleven months later with her partner, she had her first baby!
Being alert and capable enough to protect my client from a knife wielding scum bag in Victoria Park, Worthing. Not a favourite memory but a memorable one all the same!

Completely changing the inherent obesity of a whole family through lifestyle changes, education and exercise. The last I heard, they had completed their 4th full marathon and were looking forward to a skiing holiday!
Back in '98, having my brand new stereo fail to play music at one particular address. Turned out that my client and her recently departed Husband were seriously into their opera and although never said so at the time, absolutely hated the dance music I was playing. We laugh about it now but it was cosmic interference me thinks!
As you can see, my work is really rewarding and I take everyone as I find them,
as no two people are alike.
Life is too short to NOT live it how you want to!
If you have things that you would really love to do, but have given up on believing you can do them - Think Again!
If your as passionate about changing yourself as I am about helping you -
We WILL make it happen!
Richard Rempel